Nervous Bush Outlines Plan to Volcano-proof Hawaii
Administration races to prevent another New Orleans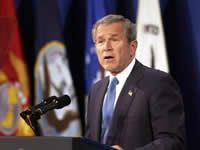 HONOLULU

- In response to charges of under-funding the New Orleans levee systems, the President today outlined his plan to cork Hawaii's 3 active volcanoes known locally as Kilauea,
Mauna Loa, and Loihi.

The hour long speech included a Microsoft PowerPoint presentation of the President's own illustrations of how the plan works. "My administration stands opposed to violent volcanic activity favoring instead, safety."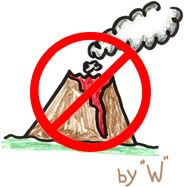 In a move that is expected to please environmentalists, the plan will place giant hybrid technology engines atop the mouths of Hawaii's three volcanoes as early as mid-2006. The engines will capture kinetic energy from eruptions producing clean, abundant electricity instead of hot, dangerous lava.


The President concluded, "It'll be a lot of hard work, but it is our duty to protect the people from threats be they al-Qaeda or natural disasters."
Technorati Tags
[Katrina]
[Bush]
[Blame]
[Volcano]
[New Orleans]
[Levee]